Sisterhood Spotlight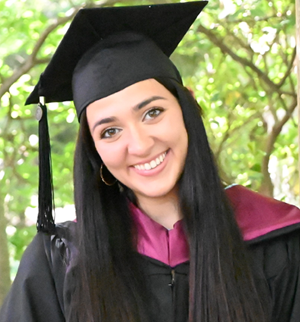 Gabriela Chambers
Fourth Grade Teacher at Gilbert Linkous Elementary School
As a fourth-grade teacher, Gabriela Chambers ensures that young Virginians are being provided with a high-quality education and are on track to graduate high school. She aims to spark a love of learning early on, so the students remain engaged and interested in the topics covered in class. In this Sisterhood Spotlight, Gabriela Chambers discusses teacher qualifications and how we can support them, the impact of Covid-19 on education, parent involvement, and resources that families can use to help their children grow as students.
---
Congratulations on your recent graduation. Tell us a little about your education in order to become a teacher.
In order to become a teacher, I completed the M.A.Ed. program with a major in Curriculum and Instruction from Virginia Tech. This program lasted 12 months and included one semester of student internship and one semester of student teaching. I was a student intern in the third grade at Prices Fork Elementary School in Blacksburg, Virginia, and I was a student teacher in the second grade at South Salem Elementary School in Salem, Virginia. The experiences I had at both schools taught me valuable lessons I will carry with me throughout my career. To summate my time in this program, I learned the importance of implementing the science of reading throughout an English and Language Arts block, I learned skills that aid me in instilling high order thinking and increasing the cognitive demand of lessons in Math, and I was taught useful strategies to incorporate Science and Social Studies into all topics throughout the school day. Overall, my year in this program gave me the tools to become an effective teacher for my students in fostering their curiosity and expanding their knowledge of the world around them.
It is clear from recently released SOL scores that students in Virginia – particularly our young learners -- are not reaching the expected benchmarks for core classes such as reading and math. As a teacher, what efforts are you taking to address the learning gap worsened by Covid-19?
It is evident that students have suffered academically as a result of Covid-19. Montgomery County, Virginia, along with several other counties within the state, are emphasizing the science of reading in order to emphasize the importance of word recognition and language comprehension. In turn, the two concepts combined allow students to effectively reach reading comprehension, and subsequently better understand all topics within the classroom. As a teacher, I hope to create meaningful learning experiences wherein all content areas are seen in various subjects throughout the day, and no specific topic stands alone. For example, within a block of English and Language Arts, the students could be learning phonics, or working on reading comprehension, meanwhile learning words that apply to relevant topics in science, or analyzing text that relates to a topic within Social Studies. In math, using the necessary differentiations and modifications to lessons, I give students the opportunity to think abstractly and discover concepts through tangible and complex learning experiences that are applicable to their everyday lives.
Supporting our high-quality teachers is crucial to ensuring success with our students. How can we better recruit young persons like you and also support teachers?
Encouragement of teacher preparation programs and higher funding for said programs provides excitement and motivation for young people like me who are interested in going into the field of education. Facilitating conversations where education is discussed in a positive light, and uplifting teachers within the community are additional ways in which more people might be further inclined to go into the field of education. So much of this job is fueled by passion. Passion and love for teaching is so critical if someone wants to become a teacher. That being said, encouraging teacher preparation programs and inspiring those who have this passion is key in the journey for boosting the educational field and supporting teachers as a whole.
Parents are the third leg of the stool for educational success. How are you ensuring that parents stay involved and maintain access to information around what students are learning?
Transparency in parent-teacher communication is significant in ensuring parents are active members of the school community and curriculum. Keeping parents updated on the curriculum taught each week (through weekly updates, digital classroom posts, letters home, etc.) is crucial because it allows parents the opportunity to understand what their student is learning in the classroom. This empowers parents to become active participants in their child's education, rather than passive observers. As teachers, it is imperative that we understand the significance of having these parents' children in our classrooms all day. We must value the trust that parents place in us and maintain clear communication to sustain the relationships we build with our students and their families.
In light of Adult Education and Family Literacy week, what activities would you recommend families engage in at home to further promote reading, writing, and communication skills? What resources are available that can help families?
To further promote reading, writing, and communication skills at home I would suggest that parents actively read with their students. By this, I mean that you are not only sitting and reading aloud with your child, but asking them questions about the text, modeling intonation, maintaining engagement, and emphasizing the importance of the text you are reading. Reading out loud to your child holds such an impact not only on their view of reading and literacy, but on the relationships you build with them as well. Check with your local schools to see what reading programs are available and recommended within your county. Aside from this, I would also recommend visiting your local library, bookstore, or even seeking different online reading resources such as Epic!, Scholastic, the International Children's Library, and iStory Books to name a few. Limit screen time and encourage and participate in active discussion with your child. So much of our world now revolves around a digital mindset, and communication has taken a toll as a result. In terms of writing, encourage your student to write pen-to-paper and keep a journal, or even write letters! The importance of writing on paper is often pushed aside, but it is a crucial skill for students to maintain as they grow and develop into more rigorous academic content.
About Gabriela Chambers
Born and raised in Fairfax County, Virginia, Gabriela lived with her father, mother, and brother in McLean. She grew up speaking Spanish and English at home, as her mother is Puerto Rican. She attended The Langley School in Mclean and went on to graduate high school from Stone Ridge School of the Sacred Heart in Bethesda, Maryland. She continued her education at Virginia Tech to earn a B.S. in Human Development and a minor in Classical studies.
During college she began working at a summer camp in Northern Virginia, and eventually became the assistant camp director. At the camp she worked with children from a variety of age groups and solidified her love of working with kids. In her junior year of college, she began substitute teaching at a parochial school in Silver Spring, Maryland. From then on, she knew that she wanted to become an elementary school teacher. To follow her passion, she attended graduate school to earn a Masters in the Arts of Education with a major in Curriculum and Instruction from Virginia Tech. She now gets to do what she loves- working as a fourth-grade teacher in Blacksburg, Virginia.